Tom's coaching method is renowned for being simple, straightforward and effective. During his 8 years of coaching, Tom has coached players at every level of the game from beginners to elite amateurs and Professionals. Tom's friendly approach helps to put his clients at ease during lessons and his easy to understand philosophy helps you improve your game quickly.
His friendly down to earth approach makes it easy for clients to relax and get the best out of themselves.
Tom offers video analysis where necessary.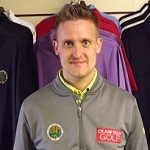 Lesson Prices
30 Mins Adult - £20
45 Mins Joint Lesson - £30
1 Hour Group of 4 - £40
30 Mins Junior - £15
9 Holes Playing - £50
4 Holes Playing - £25
10 Minute Quick Fix - £5

If you would be interested in booking a lesson with Tom, don't hesitate to get in touch by
Click here to book a lesson now.